Children
For the Kids we got a big Children Playground at the Beer Garden.
We got a big swing, teeter-totter, jungle gym, kiddy house and a lot more to entertain the children. The Playground is fenced seperatly and you got a view on it no matter if you are seated at the beer garden or the restauarant terrace.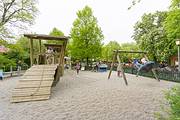 Our kiddy clown or our lovely Childrens Makeup Artist is just one of our attractions for kids.
Always on sunday afternoon or special ocations, depending on the good weather.